The new Apple Silicon-based Mac mini is an entry point into Apple's new processor ecosystem, but here's how exactly it compares to the old Intel-based model.
One of the things that Apple Silicon will have to do is to draw developers and users to the platform, and one way it can accomplish that is by offering itself as a reasonably-priced computing option. For many people needing a desktop-based Mac replacement or switching from Windows-based PCs, that option largely boiled down to the Mac mini.
Now Apple has increased the performance of the Mac mini by reworking it with an Apple Silicon M1 processor. And it's also lowered the entry-level price by $100.
As the smallest Mac Apple sells in terms of stature, as well as in pricing, the Mac mini is an attractive proposition, and one that can easily slot in to a user's existing computing environment if they are upgrading from an older model, or from a PC. It makes sense for one of Apple's first forays into Apple Silicon to be one that follows a similar path.
In fact, there has already been one Apple Silicon Mac mini in existence. The Developer Transition Kit Apple supplied to developers after WWDC effectively consisted of a Mac mini with a different processor inside, with the internals and rear panel switched out for different versions while keeping the same enclosure.
At the time, it was warned that the Developer Transition Kit would give hints for what to expect from the full-fat Apple Silicon experience, but production hardware would most probably change before its release.
Now, with the announcement of an Apple Silicon version, the first real comparisons can be made with the outgoing Intel model. We'll have to see what results we get from AppleInsider's real-world testing, but for now, Apple's specifications tell us a huge amount.
Apple Silicon Mac mini versus Intel Mac Mini – Specifications
Mac mini (Apple Silicon 2020)

Mac mini (Intel 2018)

Starting price
$699
$799
Dimensions (inches)
1.4 x 7.7 x 7.7
1.4 x 7.7 x 7.7
Weight (pounds)
2.6

2.9

Processor
Apple M1 8-core CPU

8th-generation 3.6GHz 4-core Intel Core i3


8th-generation 3.0GHz 6-core Intel Core i5
8th-generation 3.2GHz 6-core Intel Core i7
Graphics

8-core GPU

Intel UHD Graphics 630

RAM
8GB, 16GB
8GB, 16GB, 32GB, 64GB
Networking
802.11ax Wi-Fi 6 wireless networking
IEEE 802.11a/b/g/n/ac compatibleBluetooth 5.0 wireless technology10/100/1000BASE-T Gigabit Ethernet
802.11ac Wi-Fi
Bluetooth 5.0
Gigabit Ethernet
Optional 10Gb Ethernet
Storage
256GB, 512GB, 1TB, 2TB

256GB (Core i3 and Core i7), 512GB, 1TB, 2TB

Display
None
None
Ports
HDMI 2.0, two USB 4/Thunderbolt 3, two USB-A, Ethernet, 3.5mm headphone
HDMI 2.0
Four USB 3 ports, Ethernet, 3.5mm headphone
Apple Silicon Mac mini versus Intel Mac Mini – External appearance
The physical shape of the chassis may be more important with the Mac mini than in any other Mac. That's because while this devices works as an entry-level Mac for very many users, it's also routinely used in arrays where hundreds or even thousands of Mac mini machines are racked together.
Perhaps because of that, the Mac mini has largely kept the same general appearance over the years, and the new model retains exactly the same square and relatively thin lump of aluminium. It's fractionally lighter, though, at 2.6lbs instead of the 2018 Intel Mac mini's 2.9lbs.
The low-profile Mac, measuring 7.7 inches square and 1.4 inches thick, has rounded corners and bears the Apple logo on the top. All of the ports and connections are routed through the back panel of the Mac mini, leaving a quite polished and stark presence on the desktop.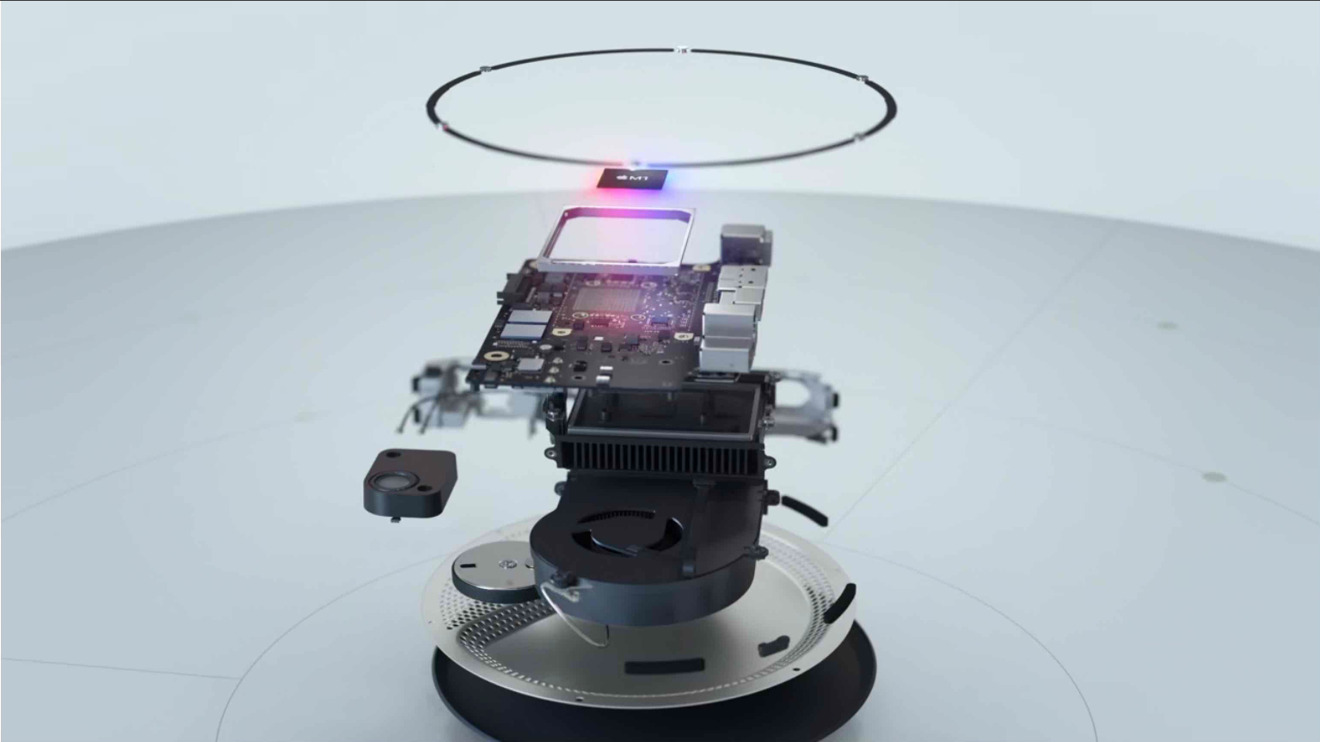 This exploded view may be your only chance to see the insides of the new Mac mini as you can no longer open it to upgrade RAM
Apple Silicon Mac mini versus Intel Mac Mini – Processors and memory
Where the 2018 Intel model offered three different processors, the new Mac mini with Apple Silicon M1 comes with just a single option, at least in this first release. It's perhaps not surprising that Apple has not come out with multiple versions for its initial release, but there are differences in the M1 processor used in other Apple Silicon devices.
The MacBook Air with Apple Silicon, for example, comes with an option that includes either a 7-core GPU or an 8-core one. The Mac mini offers solely the 8-core GPU, alongside the 8-core CPU, and the 16-core Neural engine.
Apple does not offer a point by point comparison between processors, preferring only to state that the CPU in the M1 is up to three times faster than the previous generation. For graphics, Apple says the new Mac mini is up to six times faster than its predecessor.
In terms of memory, the new Mac mini still ships with the same base configuration of 8GB, but that can be upgraded at time of order to 16GB. Apple previously used 2,666MHz DDR4 SO-DIMM memory in the Intel Mac mini, and also offered it in 32GB and 64GB configurations.
Now the RAM is what Apple calls unified memory, which it says provides faster performance. However, the RAM in the Mac mini is no longer upgradeable after purchase, which is a significant difference.
Apple Silicon Mac mini versus Intel Mac Mini – Comparing processor performance
Again, we will only really know how the new Mac mini with Apple Silicon M1 performs when it is released and tested. One thing to particularly point out is that the typical benchmark scores that will be available for the M1 are not the entire story for Apple Silicon.
Apple says that the Apple Silicon M1 chip has a higher performance per watt than equivalent Intel processors. That will mean they can run faster than, for instance, their mobile counterparts such as the A14 Bionic in the iPad Pro.
Consequently, it is highly probable that Apple is correct, and that the Apple Silicon version will perform far better, when properly benchmarked in the future.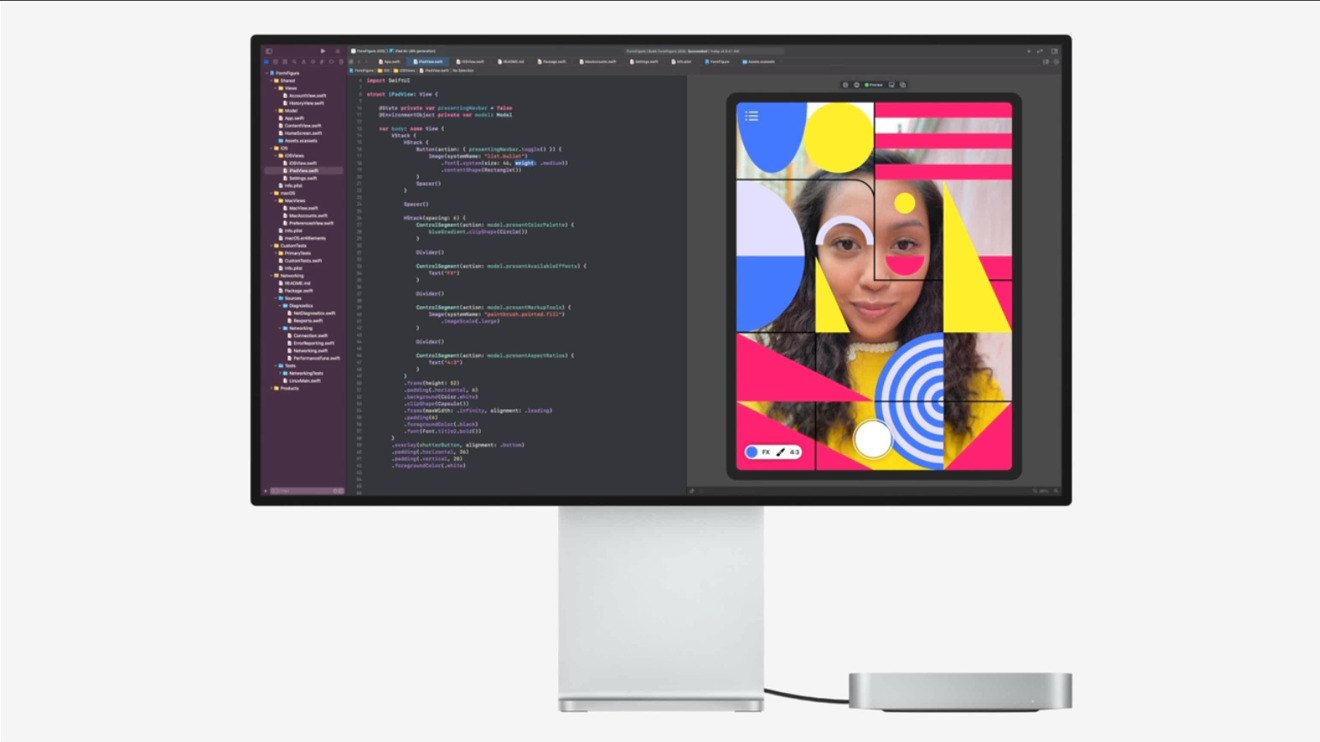 The new Mac mini driving a Pro Display XDR
Apple Silicon Mac mini versus Intel Mac Mini – Graphics
The previous Mac mini relied on Intel UHD Graphics 630, the graphics processing unit integrated into the processors. Given the small size of the Mac mini's enclosure, there's no real option for Apple to include a traditional discrete graphics option, in the device.
So Apple has opted to use its own GPU design and include it in the M1 processor. In the same way as the CPU, though, the graphical performance will stand to benefit from the improved cooling capacity available from a non-mobile device.
Apple Silicon Mac mini versus Intel Mac Mini – Connectivity
The old Mac mini offers a plethora of rear connections, starting with a quartet of Thunderbolt 3 ports, as well as a pair of USB-A 3.0 ports, an HDMI 2.0 output, and a 3.5mm headphone jack.
On the networking side, it also offers 802.11ac Wi-Fi and Bluetooth 5.0 support for wireless connectivity, as well as Gigabit Ethernet for physical networking. Apple also includes an optional upgrade for 10Gbps Ethernet.
The new Mac mini with Apple Silicon M1 matches most of this — and beats some of it. It provides the faster Wi-Fi 6, or 802.11ax, for example, plus Thunderbolt/USB 4 ports.
Where it arguably falls down is in the number of ports. The new Mac mini has only two USB 4 ports with support for Thunderbolt 3 instead of four Thunderbolt 3 with USB support. It does, though, come with two USB-A ports.
Apple Silicon Mac mini versus Intel Mac Mini – Storage
Apple again offers the Mac mini starting with a storage option of a 256GB SSD in one base configuration, with upgrades to 512GB, 1TB, and 2TB of storage. The other configuration starts from 512GB and has the same 1TB and 2TB options.
This effectively boils down to both configurations having the same 256GB to 2TB storage capacity range. The previous Intel Mac mini had different options, with the Core i3 and Core i7 versions able to be configured to have 256GB of storage.
Apple Silicon Mac mini versus Intel Mac Mini – User upgradability
Upgrading the Mac mini has changed over the years, and not always for the better. While earlier models allowed users to change the storage drive for a higher capacity, or to move from mechanical hard drives to SSDs, the new Mac mini with Apple Silicon M1 removes even the ability to upgrade the RAM.
Apple has traditionally always priced RAM far higher than other suppliers, so the ability to add more after purchase was significant in making the Mac mini affordable. That ability to add RAM later also meant that users could keep improving the performance of their machine as it aged.
Apple Silicon Mac mini versus Intel Mac Mini – Pricing
Apple starts the new Mac mini with Apple Silicon M1 at $699 in the lowest-priced configuration. This gets you 8GB RAM and 256GB storage. Upgrading to the now maximum 16GB adds $200 to the price.
Similarly, moving up from the base 256GB to 512GB also takes $200. The 1TB version is yet another $200. Going from the base 256GB all the way up to 2TB storage adds $800 to the price.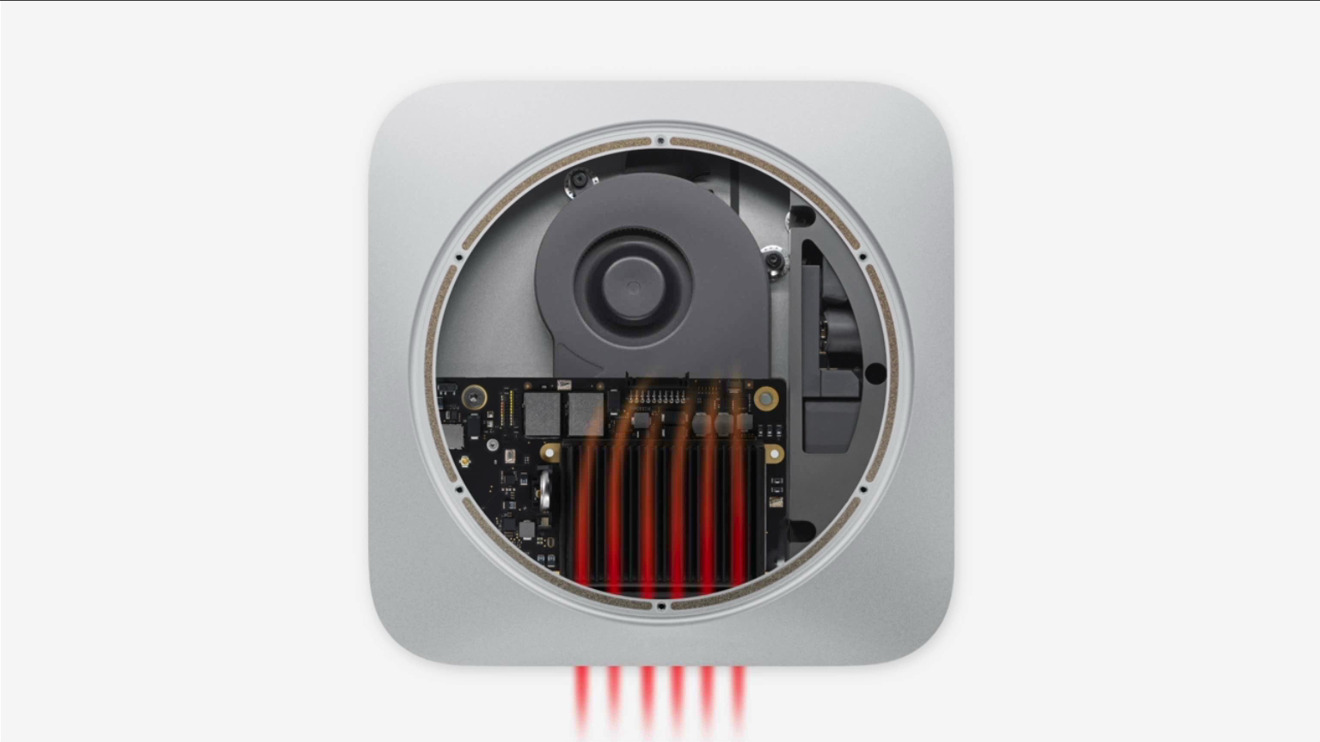 Detail from how the new Mac mini dissipates heat (Source: Apple)
Comparing Apple with Intel
The new Mac mini is far faster than the old Intel model. Unusually for Apple, it's also actually cheaper. That combination, especially the extremely improved performance, is enough to show just why Apple has made the move to Apple Silicon.
There is the issue that you can no longer upgrade the RAM in the Mac mini. That means it's probably a better bet, in the long term, to spend $899 and buy the version with the most RAM already installed.
Whether you do that or not, though, in every way that we can yet measure, the new Mac mini is an extremely substantial upgrade to the old one.
Source link