Apple's upcoming four-for-one stock split will make its shares much more affordable for users, and if you're looking for a free and easy way to pick up AAPL stock, Robinhood is a good bet.
The four-for-one stock split means each AAPL share will be worth one-fourth of its amount (all things being equal). AAPL investors who hold a share will receive three additional shares. The split, which will take place on Aug. 31, 2020, also means Apple investors can buy shares of the company at a much more affordable price.
As we mentioned, Robinhood is an easy and free to try out trading without any long-term obligations or money out of your pocket — making it a good tool for users that may want to buy a share or Apple or two. Of course, interested users would do well to download Robinhood and familiarize themselves with it.
The app, popular among millennials for its mobile focus and ease of use, has about 6 million users and won an Apple Design Award in 2015 for its simplicity and user interface. Unlike some other stock tracing apps out there, there are no fees associated with Robinhood — meaning you can create an account and buy stocks for free.
Here's how to set up an account and buy stocks — just in time for Apple's split.
An overview
Robinhood is a stock brokerage platform accessible through iOS or Android, a web interface supported by most browsers, and a stripped-down watchOS app.
While there are quite a few stock trading options on the App Store, Robinhood stands out for its clean, intuitive design and an extremely low entry barrier.
One of the most attractive features of Robinhood, especially for young or new investors, is that it's essentially free to use. There are no fees or commissions, and you don't have to maintain a minimum balance or number of stocks to open or maintain an account.
There are some limitations to the platform. It doesn't currently support trading of options, futures, or other securities. If you're just getting into the market, that likely won't be a problem, but it's something to keep in mind.
Robinhood is also only available to U.S. citizens, permanent residents, or U.S. visa holders. While the app is technically supported internationally, you need to be a current, permanent U.S. resident to sign up for an account.
Signing up for an account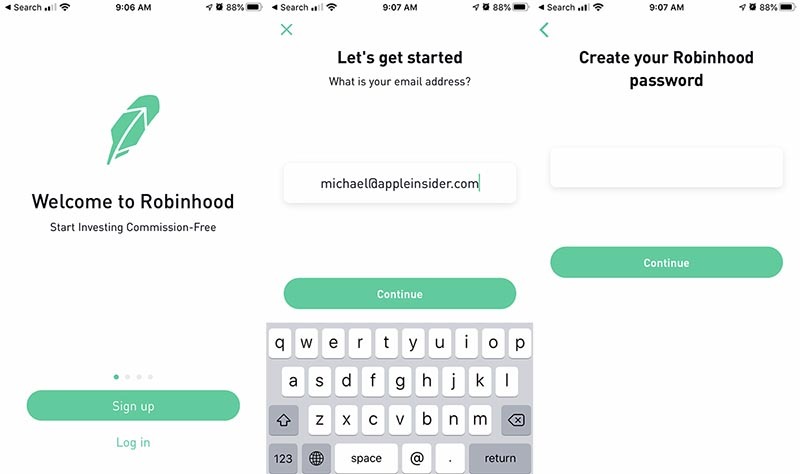 Signing up for an account starts with your email and password, but you'll also need to answer some personal information questions.
Before you can start trading on Robinhood, you'll need to sign up for an account. While the process is simple, it can take a couple of days.
Once you input an email and password, Robinhood will collect other personal information as required by U.S. law, including your legal name, date of birth, residential address, citizenship, and social security number.
The app will also ask you about your investment experience, employer, and previous experience with brokerage accounts or companies.
Once you're signed up for an account, you'll need to sync your bank account to make transfers to your Robinhood balance. Note that it may take a few days for the syncing to actually complete.
Another thing to note is that Robinhood offers free stocks to incentivize sign-ups, as long as you refer another user or are referred by an existing one.
How to use Robinhood to buy stocks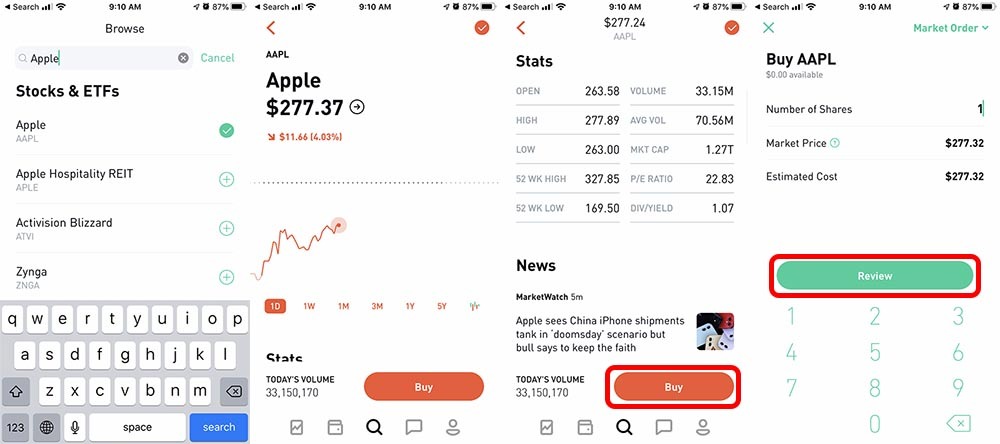 Once your account is active, buying stocks is as easy as searching for a company and hitting the appropriate button.
When you're all signed up, you'll see Robinhood's primary home screen. This is also where you'll be brought every time you log in or open the app.
On the home screen, you'll see the total value of your portfolio, as well as the current rise or fall by time. If you have surplus cash, it'll show up next to "buying power."
To look for stocks, just hit the search icon in the bottom menu bar and enter a query. If the company is available on Robinhood, you'll see it appear in the results. Clicking on the plus icon next to its name will add the company to your watchlist, letting you track its current stock price without buying it.
Tapping on a stock will bring you to a menu with more in-depth information, including market statistics, volatility, earnings, an about section, and relevant news articles pulled from the web.
You'll also see a prominent buy button. Tapping this will bring you to an order page where you can see the current market price, input the number of shares you'd like to buy, and receive an estimated cost before the transaction goes through.
Type in the number of shares you'd like to buy, or the total dollar amount in fractional shares. Robinhood will give you a chance to review the order. Once you complete it, trading will occur immediately. Or, if it's after-hours, it'll happen as soon as the markets reopen.
An explosion of confetti will ensue on your device, and your shares will appear under your stocks on the home page. If you ever change your mind, you can head back to a stock's primary page to sell it.
Other notes
Robinhood's user interface and set of features are barebones by design, but there's a bit more to the app than just buying or selling stocks.
For one, Robinhood also lets users buy and sell select cryptocurrencies such as Bitcoin and Ethereum. There aren't too many options here and many of the cryptocurrencies that appear are only available to watch (but not buy).
Like similar options on the market, you can also schedule automatic deposits to take place. Any funds will be added to your account's "buying power" and won't be invested automatically, however.
There are some additional account upgrades, as well. A free Robinhood Instant upgrade will allow you to access a set amount of instant funds without waiting for bank transfers or stock sales to clear.
You can also opt to subscribe to Robinhood Gold, which turns your standard brokerage account into a margin account. It also gives you access to deeper research tools and additional market data for a flat fee of $5 a month.
Of course, while Robinhood lowers the barrier to trading to pretty much nothing, there may be more financially sound decisions for younger or newer investors. That includes retirement or other tax-deferred accounts, which Robinhood doesn't currently support.
Source link